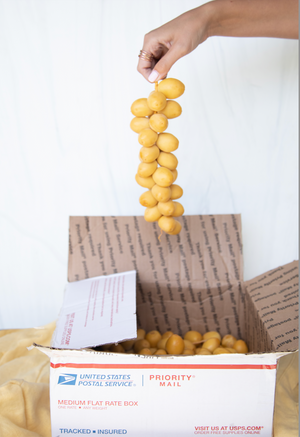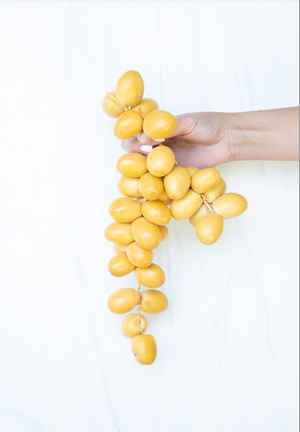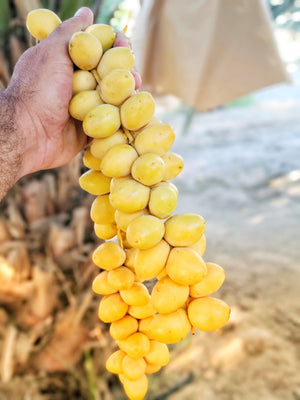 Our Yellow Barhi dates are the first variety of dates we harvest in the 2023 Fall Season. This date variety is harvested and shipped August through early September. We will ship East Coast orders on Monday, Tuesday, & Wednesday and West Coast Orders Monday Through Thursday.
Get ready for the best darn organic Yellow Barhi dates you've ever had! 
Organic Yellow Barhi Dates are a delicious date variety that is unique in color, taste, and appearance from other varieties and is sought after by date aficionados. These dates are shipped attached to the vine and are often compared to apples, coconut, or sugarcane.
Available in 2lb, 5lb, 8lb, and 10lb sizes and are shipped in a Large Priority USPS box (no formal packaging). Please note, we ship this date variety attached to the vine to ensure optimal freshness.
Try 'em! You're gonna love 'em.

 Not eligible for discounts or promo codes.

FAQ
Have a question? Click here to see our FAQ's.
Nutritional Info
| | | |
| --- | --- | --- |
|  Date Nutrition |   | % Daily Value |
| 2 Jumbo Dates/6 Medium Dates |   | |
| Calories | 110 |   |
| Total Fat | 0g | 0% |
| Cholesterol | 0g | 0% |
| Sodium | 0g | 0% |
| Total Carbohydrate | 30g | 11% |
| Dietary Fiber | 3g | 11% |
| Total Sugars | 25g |   |
| Protein | 1g |   |
| Calcium | 19mg | 2% |
| Iron | 0.4mg | 2% |
| Potassium | 262mg | 6% |
| Thiamin | .02mg | 2% |
| Riboflavin | .04mg | 4% |
| Niacin | 1mg | 4% |
| Vitamin B6 | .1mg | 4% |
| Biotin | 3mcg | 8% |
| Pantothenic Acid | .3mg | 6% |
| Magnesium | 20mg | 4% |
| Zinc | .12mg | 2% |
| Copper | .1mg | 10% |
| Manganese | .1mg | 4% |
"I can't even explain how fresh and delicious these dates are. These truly are the best darn dates I've ever had."
Karen McWilliams